It's no secret that wearing high heels day in and day out can put a toll on your body. This infographic outlines the often dramatic effects of high heel wearing, probably making the ladies cringe.
From a spinal aspect, heels cause an increase in the low back curve (lordosis). This increases the amount of stress on vertebrae and discs and can amplify any pre existing conditions in that area. We can help our heel-wearing patients at Crevar Chiropractic with feet subluxations by adjusting the bones of the feet and re-aligning them. Creating movement in the feet allows for pain relief and long-term ability to wear those heels.
Bottom line: if you continue to wear heels, you will continue to see these negative effects. Regular chiropractic care can absolutely help, but the best solution is to wear flat, supportive shoes as much as possible.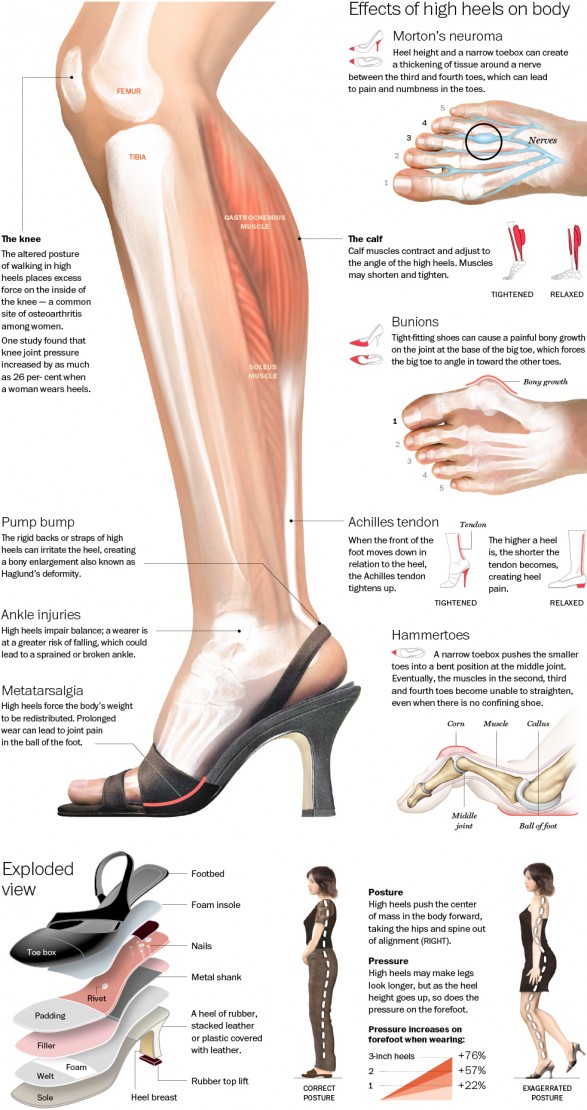 At Crevar Chiropractic in Charleston, SC, we take a new and innovative approach on chiropractic care called functional neurology. We work to align your brain with your body, helping specific medical conditions, as well preventative care to keep you always feeling your best. We treat conditions like ADHD, movement disorders, tremors, stress mangagement, Multiple Sclerosis, Cerebal Palsy, Fibromyalgia, Parkinson's Disease and more. Contact us today, and let us help you on the path to health!