Naturally-Minded Services
Results-Based Progressive Chiropractic Care
Chiropractic Care
Our holistic techniques work to determine and treat the root cause of medical issues our patients have suffered with for years, along with acute injuries.

Functional Neurology
This technique ensures your brain and body are working together to make you feel your best and overcome many neurological conditions, naturally.

Functional Medicine
We pinpoint & address the underlying issues for many conditions using a nutritional & supplemental approach. Environmental, genetic & lifestyle factors are considered.
Auto Accidents
With injuries from auto accidents, a custom plan is designed for injury treatment using chiropractic, functional neurology, nutrition, physical rehabilitation, & more.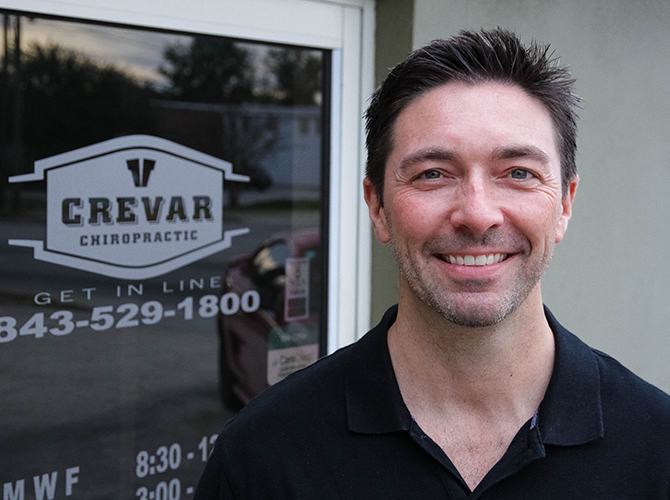 ---
Dr. Blaine Crevar is a chiropractic neurologist seeing patients out of his North Charleston office, Crevar Chiropractic. He prides himself in his modern and forward-thinking techniques in treating his patients, focusing on what is called functional neurology and functional medicine.
Testimonials
See What Others Are Saying
I have been seeing Dr. Blaine for several weeks now and am being treated with Functional Neurology. I've found that I am able to retain technical information better while studying and feel I am able to recuperate easier from the computer shift work required for my work position.

I know for me and my children, Dr. Crevar is the greatest. After all the medical doctors I have gone to and none of them knew what was wrong with me and why I was having so much pain, he was the one that told me what was wrong with me. Dr. Crevar and his staff are always there for me and always have time to listen. I never feel like I am being rushed out.

If you're not sure if you should give Crevar Chiropractic a try, especially if you've been to other doctors of chiropractics before, all I can do is to encourage you to make one more "leap of faith" and see what amazing results could be in store for YOU. I almost didn't go myself­and now I realize that I could have missed out on the rest of my life.

After incorporating Functional Neurology into my health regimen, I function more effectively in all areas of my life and achieve my ultimate goal...a better quality of life. I appreciate feeling better, having calmer energy and an enhanced ability to concentrate.

Since seeing Dr. Crevar for the first time in September, I am almost completely headache free. I have had one migraine in the past two months and that was stopped with a quick adjustment. I am no longer taking pain medication or muscle relaxers; I haven't missed work in several months and haven't needed physical therapy at all. What is even more impressive is that I feel so much better overall, and I seem to have more energy than before. It has been several months since I had to come home from work and lie down for a few minutes before being able to tackle dinner, homework, dishes, etc. I am enjoying life so much more now, and I have Dr. Crevar to thank.

Within the first few weeks of being treated at Crevar Chiropractic, I could not believe the difference in how much better I was getting. I have gone from being a seven or eight out of ten on the pain scale to approximately a two out of ten. In addition to the pain being much more manageable, I am able to physically use my arms again!

About Crevar Chiropractic
Crevar Chiropractic is a healthcare facility in North Charleston, SC that improves health from a chiropractic, neurological and nutritional approach. Our unique techniques balance and improve brain function, which allows proper communication between the body and the brain.
Business Hours
8am - 6pm

Closed

2pm - 6pm

8am - 12 noon

(by appointment only)

Closed
Get in Touch
3940 Dorchester Rd.
North Charleston, SC 29405